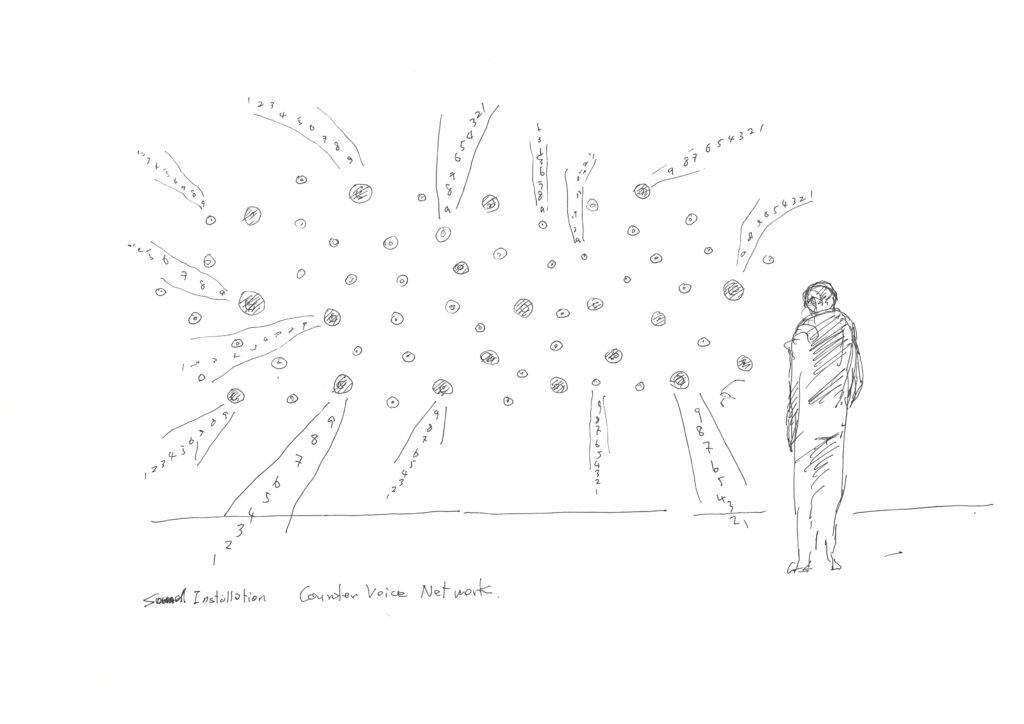 Counter Voice Network is a sound installation project that celebrates the diversity of language and rich cultural traditions throughout the world. The installation consists of voices of counting numbers in various languages by their native speakers. It invites the viewers to embrace differences and to reflect on the ways in which we can come together to build a more inclusive and connected world.
The spreading of sound waves through the intangible canvas of space is not just a physical phenomenon but also a carrier of culture and history. Language, being a vital aspect of culture, expresses the unique stories of its speakers, their history, beliefs, and values. At the heart of human communication, sound is a fundamental component that helps unfold these linguistic expressions and reveals the rich tapestry of human experience. Through the mingling of voices counting numbers in various languages, Counter Voice Network creates an immersive and dynamic experience that offers a unique glimpse into the diverse cultures and histories of people from all over the world.
To accomplish this artwork, Miyajima is aiming to gather the speaking of over 100 different languages. The finished installation will be exhibited both in physical space and online.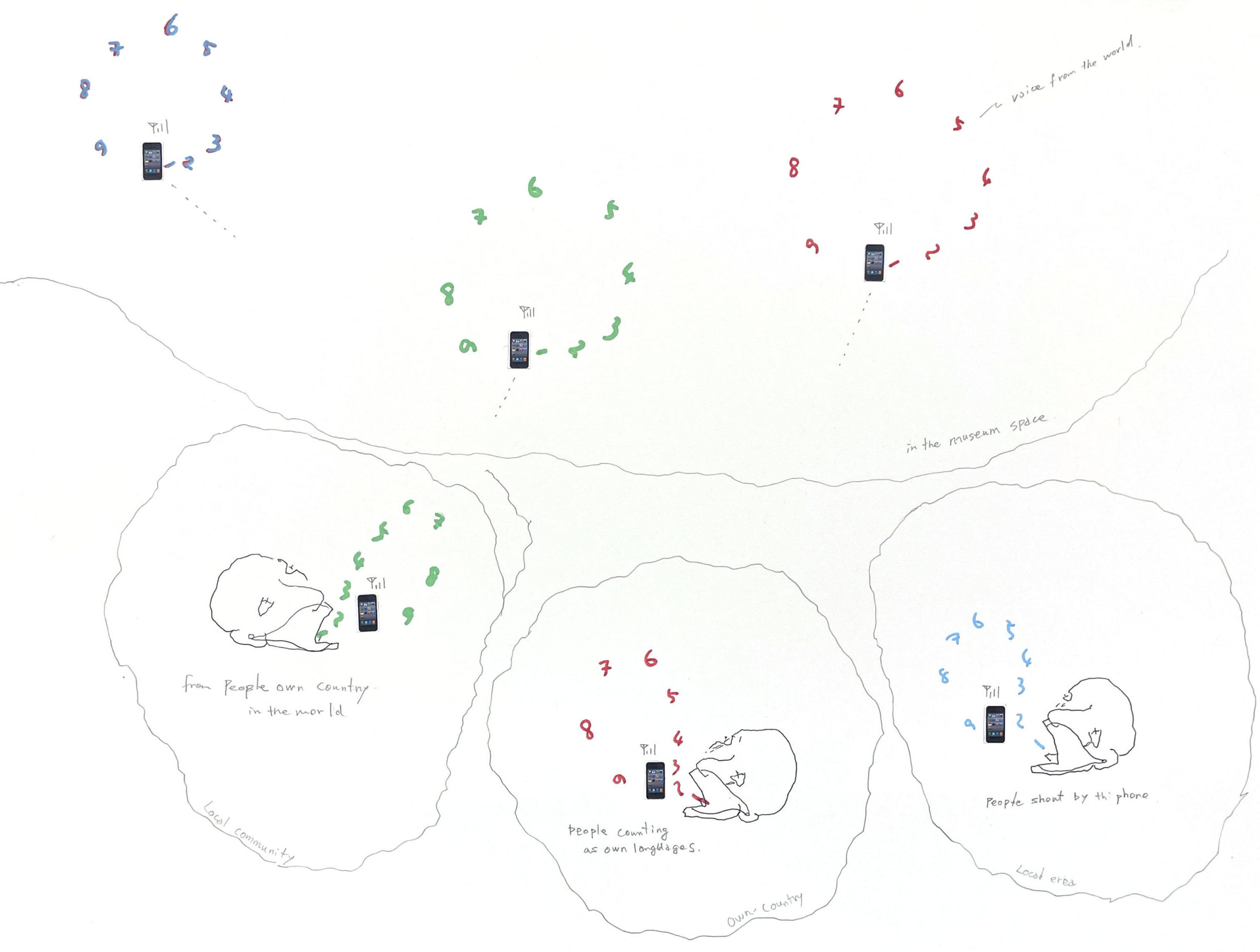 About the artwork
In Counter Voice Network, recorded voices are played on loop through audio speakers in the exhibition space. They can be heard either individually as you approach, or simultaneously as you walk in the space. Ripples of acoustics rise and fall, overlapping each other to create a special harmony that is both pleasing to the ear and unique in its complexity. The counting of the voices adds one more layer of rhythm to the harmony, as each language has its own distinctive cadence and tempo. The whole site acts like a huge living canvas, and each voice is a vibrant, organic brushstroke that creates tides of sensation on it.
In addition, the silence between the counts opens a space of another dimension that allows listeners to breathe and to feel the unique rhythm of each life cycle. With the repetition of these sequences, Counter Voice Network creates an endless pattern of reincarnation that goes on continuously and non-linearly—a pattern of life and death in a broad sense to which the world is bound.
Why "counting?"
The most intuitive thing about numbers is that they represent time. However, numbers are much more than just a means of counting or measuring things. Numbers are a universal language that transcends cultural and linguistic barriers, allowing for the sharing of ideas and concepts across time and space. To take a step further, the invention of numbers is intertwined with human perception.
In Miyajima's concept, voices countdown from the number 9 to 1 while 0 is in silence. Through repeated counting cycles, the numbers between 9 and 1 symbolize the constant presence and impermanence of life. The absence of 0 represents death, a transitional state implying both nothingness and infinity, and serves as a reminder that death is an essential step towards liberation and enlightenment, making it equally important to life itself.
How to get involved?
If you share these same values and want to be a part of this project, please follow the steps below. Do not worry if there are multiple participants speaking the same languages. The voices will be curated by Tatsuo Miyajima Studio. (Instruction video follows)
Fill the application form.
Record your voice in a comfortable place free of noise. It is okay you do not have any professional recording equipment. Smart phone quality is good enough to us.
When you record, count down from "9" to "1" in your first or native language.
Take a deep breath and remain silent when you are at "0." The length of silence is up to each performer.
After the silence, start counting again from "9" to "1."
Repeat the process for about 3 minutes.
The counting speed of each loop can be varied. Try to express your emotions by speaking in different tones and volumes, for example, quieter, or louder, etc.
It is not necessary to show your face.
Upload your voice record through "Choose File" button.
Read the terms of participation and check the box to accept and send the form.
Instruction video
References
Please use this as a reference for recording your own voice.
Part 1: Recorded voices from "Counter Voice in the Earth" (2006, Tatsuo Miyajima).
Part 2: Clips from "Clear Zero" (1995, Tatsuo Miyajima) at the lobby of Itochu Building, Tokyo.
What will you get from this project?
We are very thankful for your contribution to this artwork. Tatsuo Miyajima Studio will handle the recording of your voice with respect. For the selected participants, digital certificates will be issued to them through email. Miyajima will give credit to your participation in the exhibition. (If you wish your name not to be published, please do not check the 2nd agree button). Detailed exhibition information to be announced.
Application form
Contact
For inquiries, please contact us at the e-mail address below.
countervoicenetwork@tatsuomiyajima.com